August 19, 2014: Tuesday, 20th week, Ordinary Time
Reflections
Words of today's readings

Creighton

: The prince of Tyre attributed his wealth to himself, became haughty, and referred to himself as a god! God put him in his place. When we think our success is our own and we don't need God, God may allow us to stumble to remind us we need him. If we keep perspective about wealth, recognize gifts as from God, and use our riches in line with God's teachings, we can exchange material wealth for something greater...
One Bread One Body: Jesus' words apply to us; most in the US are rich by international and historical standards. We can simplify our lives.
Passionist

: Ezekiel talks about arrogance, describing how the well off think their wealth comes from their wisdom, and Jesus speaks of the challenge the rich have to enter the Kingdom. Good work doesn't always garner earthly reward, and only God knows what's good. If we believe God alone is God, we'll live as loving children and realize our interconnectedness.
DailyScripture.net: Jesus, not opposed to wealth or the wealthy, reiterated Old Testament wisdom: "Better a poor man who walks in integrity than a perverse rich one" (Prv 28:6). He said it's impossible for the rich to live in God's kingdom on their own. The camel was regarded as the largest animal, and the "eye of the needle" could be interpreted literally or could describe a narrow gate people had to lower themselves through to pass. Until we kneel before God acknowledging our need, we won't find peace or happiness; God alone can satisfy. "You're poor even if you possess plenty.... You need eternal things. You listen to a beggar's needs, yet you yourself are a beggar of God. What you do with beggars is what God will do with you. You're filled and empty. Fill your empty neighbor from your fullness, so that your emptiness may be filled with God's fullness." (St. Augustine, Sermon 56,9

) / Wealth can make us falsely independent and lead us to harm. Only those who trust in God, depend on him, and share with the needy will find peace, security, life, and joy. Where's my treasure?
Universalis: St. John Eudes, priest, preacher, founded Sisters of Our Lady of Charity, encouraged devotion to the Sacred Heart of Jesus and Immaculate Heart of Mary, revolutionary in corrupt church. See Catholic Encyclopedia

,

Wikipedia

. St. Ezekiel Moreno, bishop, prior, missionary. St. Oswin, humble king popularly regarded as martyr.
Apparel
'Tie bar with ? at center (squint): "You're haughty of heart" (1st reading)

'Owl' tie pin: "You're wiser than Daniel" (1st reading)

Gold- and silver-colored accoutrements: "You've put gold and silver into your treasuries." (1st reading)

'Sword' tie pin: "They'll draw their swords and run them through you" (1st reading)
Tie: The giveaway is back: comment if you see how it fits a reading later this week; first right answerer before tomorrow's post wins an Amazon gift card!

Green in tie: Ordinary Time season (you need more than this for the gift card :-)
'Hand' tie pin: "They said, 'Our hand, not the Lord, won the victory'" (psalm)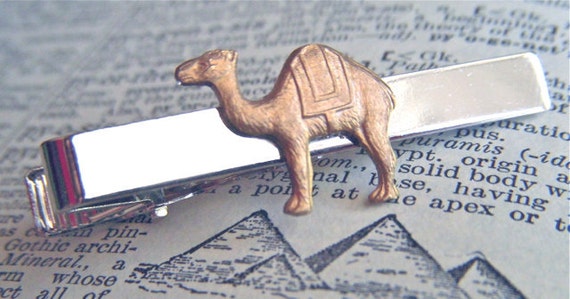 This too
(but Bernie didn't find either one
in a thrift shop)
Preview tomorrow
Dress your life!